Title: I'm Home /
アイムホーム
Genre: Family, Mystery
Episodes: 10
Broadcast period: April - June 2015
CAST:
Kimura Takuya
as Ieji Hisashi
Ueto Aya
as Ieji Megumi
Mizuno Miki
as Nozawa Kaoru
Rai Takahashi
as Ieji Yoshio
etc.
I'm Home definitely was the best dorama of spring season this year! With its highest rating than other doramas in the same season, Kimura Takuya still proves that he is still the King of Dorama in Japan. There's no any objection to it. And, here is my review on I'm Home, one of must watched dorama for spring 2015.
Synopsis
Ieji Hisashi, a salaryman who works for a securities company, has a fuzzy memory of the recent five years because of an accident at his job posting. His wife of five years, Megumi and their 4-year-old son seem to wear masks. He can neither tell their facial expressions nor their emotions. He also struggles about his love for them. On the other hand, Ieji feels an attachment to his ex-wife, whom he divorced five years ago, and their daughter. What sort of days did he have in those five years which are a blank to him? Ieji sets out on a journey to find his past self with a mysterious bunch of 10 keys that he has. He becomes aware that he was a cold, career-minded man before the accident, and the persona that is gradually revealed is beyond the imagination of his present kindhearted self.
Review, Peeling the Dorama
I can't recall any dorama where Kimutaku doesn't play good. Since the first time I saw him in Long Vacation, he never makes me disappointed, even for the weird dorama like Ando-Lloyd in some years ago. His name is a guarantee for a drama's quality. Do you agree with me? Let's then make a short review for I'm Home.
I think the story in this dorama is good. An amnesia man and his struggle to find his lost memories. It sounds cliche, isn't it? But the special thing is that the secret behind the lost memories. How an amnesia man started to hate him self when he finally found the truths about his past. Can someone become someone else completely because of an amnesia? How can a cruel man like Ieji Hisashi who did anything for power and money became a kindhearted Ieji Hisashi who loves his family more than anything? Sounds weird but here it is again, Kimutaku did a great job with his role as Ieji. Somehow, I can feel how is it like to hate ourselves and our past. But, all we can do is to face the future and do the best.
I almost forgot to mention that this I'm home story is originally adapted from a manga titled I'm Home by Kei Ishizaka that published in 1997-1998.
The idea of how Ieji sees his wife and son wear masks is brilliant. A mask symbolizes something fake and almost everyone wear mask in their life. Haha.. As a human, we always have a dark side, something that we try hard to hide it from people around us. Can we put off our masks? Sure, we can! Although, it is not easy to find someone who can make us open the mask we are wearing for so long time. That's what I think! (Why so serious? Lol). And why Ieji sees masks on his wife and son? That will lead to core of this story. It is very interesting to watch how Ieji struggling to get back his lost past and how he face the reality after he found out that he was not a man he is now.
How can a bad man became a good man because an amnesia? That's my big question. If that's the case, it would be better if all bad people on earth get amnesia so they could reborn as good people. Haha..
This dorama also has a complete background: work place, friendship, family, and a little bit of medical world. I really love the family story. Ieji's relation with his ex-wife and step daughter, and also with his current familly. It is very lovely. That's why it's I'm Home.
How about the setting? The very last scene - a beautiful orange house - is very very lovely. OMG! I really want that looks expensive house! (and Kimutaku as a bonus. Haha). Well, over all I like the setting in this dorama. Ieji's work place, his apartment, and other places that appear on this dorama are well done. By the way, do you prefer Ieji's old apartment, Ieji's summer house, or Ieji's new orange house?Me, You already know my answer.
There's no complain with uncle Kimutaku. He was perfect! He played 2 different sides of Ieji with totallity. I can feel the bad man and the good man in Kimutaku's Ieji. The development of his character is awesome. Somehow, this reminds me of another Kimutaku's dorama -Ando Loyd-which he played 2 different characters and it was good! And Ueto Aya, she was good too. No complain. She can portray a good wife who always loves her family, support her husband eventhough she is hurt inside. Ow, so sad. Yup, typically Asian good wife. I don't think that I could be like her if I have the same problem. No way! That's too sweet to become reality.
Kimura Takuya and Ueto Aya (img: here)
Point plus for cute boy 'Rai Takahashi'.
I love him. He's so cute and lovely here. I really wanted to hug him while I was watching him in almost all episodes. He can act! Good job boy.
How about other supporting actor/actress? Yeah, I think they're just fine. They're good but I don't think that I want to write them here. Too lazy for that. Lol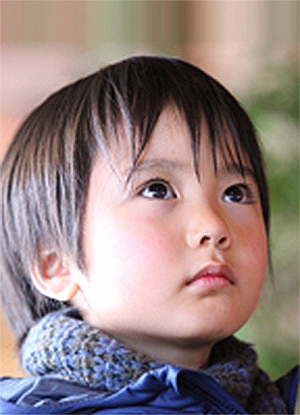 Rai Takahashi (img: here)
I don't know, I don't have special feeling or any memories regarding the OST and the theme song. I don't think that this dorama has theme song tho. Haha.. What do you think?
Overall, I like this dorama. I like all Kimutaku's dorama. You should not miss this dorama. Because in my opinion, I'm Home is one of the best dorama in the spring season! Let's see if this dorama will get award. (I bet Kimutaku will get at least an award for this dorama. :D )
I give 8.5/10 for I'm Home!