Genre:
Comedy, drama, political
Broadcast period:
2015-Jul-24 to 2015-Sep-11
Theme song:
Stress Free by miwa
Kenapa nonton Tamiou? Tentu, karena Tamiou adalah dorama terbaik di musim panas 2015 ini! Masaki Suda dan juga Kenichi Endo akan membuat penontonnya tertawa geli melihat kisah konyol Perdana Menteri Jepang yang sangar dan anak lelakinya yang rada-rada bodoh.
Simak ya, sinopsis dulu baru review-ku.
One day, the current prime minister of Japan, Muto Taizan, and his useless son, Sho, suddenly discover that they have switched bodies. With no known cause or solution at hand, Sho reluctantly ends up appearing in the Diet on his father's behalf. But he completely cannot follow the deliberations as well as the questions and answers because it has been his routine to skip his studies. He is also repeatedly caught making childish responses or misreading kanji in documents. However, untainted by the adult world, Sho's straightforward opinions and genuine feelings start to mobilise the Diet and the public. On the other hand, Taizan has to lead the life of a university student and search for a job on behalf of his son, but with the brains of a prime minister. He refutes arrogant interviewers with his overwhelming knowledge and debating skills. Although Taizan wins the war of words, he is an absolute failure in the interviews itself. Furthermore, several peculiar girls whom Sho has had relationships with appear and makes Taizan more bewildered.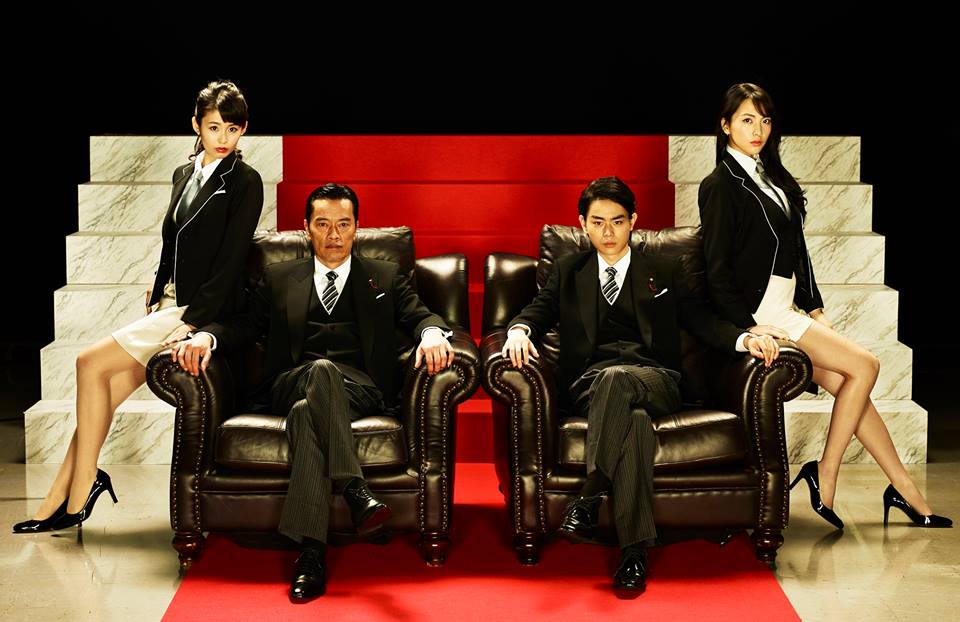 Para pemeran utama di sini semua..
(img: here)

Beberapa alasan kenapa harus nonton TAMIOU.
1. Ceritanya! Sumpah konyol tapi lucu
Cerita tukar badan sebenarnya bukan hal yang baru-baru banget sih, tapi TAMIOU tetap segar ditonton karena kekonyolan ceritanya. Bayangkan, seorang PM yang tidak bisa membaca kanji dan salah baca teks pas pidato kenegaraan! Atau, seorang mahasiswa yang bodoh tiba-tiba menjadi sangat cerdas? Hahaha, dibumbui intrik-intrik politik yang ringan-ringan saja dan sangat mudah dicerna, TAMIOU sangat asik diikuti jalan ceritanya. Mengalir dengan tempo yang cepat dan hemat. Ya ya ya, cuma 8 episode saja! Bisa banget untuk maratonan di akhir pekan.
Ada yang kenal Om Kenichi Endo, pasti kenal dong. Si Om yang sering jadi detektif polisi ini (Ingat di Monster 2012, Border 2013, dan AndoLoyd 2013), kali ini jadi seorang PM, dan lebih sering jadi mahasiswa yang pura-pura jadi PM. Kesan angker dan bermuka seperti buaya akan musnah di sini karena si Om ternyata sangat unyuuuu meranin jadi mahasiwa. Sedangkan peran utama lain yaitu Masaki Suda juga sangat baik memerankan Mutou Sho, si mahasiswa bodoh dan kemudian menjadi PM. Waduh beribet ya, intinya antara Kenichi Endo dan Masaki Suda, mereka berbagi peran yang sama.
Pemeran lainnya, mayan juga lah. Jiyong yang meranin Erika sangat cantik dan seksi. Yup, bintang Korea ini kok fasih banget ya Nihongo-nya?
Masaki Suda lucu juga dengan rambut kritingnya.
Img: here
3. Settingnya bagus dan kostumnya rapih
Pengen tahu gimana ruangannya Perdana Menteri Jepang? Atau ruangan sidang angota dewan? Nah, boleh banget nih. Penonton akan diajak-ajak melihat-melihat ruangan-ruangan penting tersebut. Ah, tapi gak yakin juga sih itu ruangan aslinya. Hehehe.. Latar-latar lainnya gak terlalu berkesan sih, kecuali lantai atas rumah yang awalnya mau dibikin museum itu, wow rada-rada angker gitu deh.
Nah, kalau kostum. Aku suka lihat cowok pake suit lengkap. Wah, puas deh lihat para tokoh-tokohnya pakai baju formal terus. Tapi, seru juga lihat Kenichi Endo pake celana jersey warna terang, kaos bergambar kartun dan cardigan pink? Hahaha.. Dan tentunya yang rambut kritingnya itu lho..kakkoii!
Mau lihat Om Kenichi Endo dan Masaki Suda main sumo? :P
(img: here)
Yup, lagu temanya di akhir drama, dinyanyikan oleh Miwaa berjudul Stress Free. Lagunya ceria dan menambahkan kesan bahwa dorama ini adalah dorama komedi yang ceria. Yuhuuu… Kalau OST, aku tidak terlalu memperhatikannya sih. Hehe..
Oke deh, kayaknya cukup lah segitu. Akhir –akhir ini aku sibuk banget dengan kegiatan lain jadi rada susah nyari waktu buat nulis. Tapi, aku akan sempatin sehingga makin banyak dorama yang bisa kureview. Pokoknya nonton TAMIOU deh, lumayan buat ngisi waktu. Sumpah lucu! Gak percuma ini dorama yang jadi best dorama di Television Drama Academy Award untuk Summer 2015, ngalahin Death Note yang waktu itu lagi anget-angetnya. :P
Menikmati lagu, ini asalah salah satu adegan paling sweet juga.
(img: here)
So, mari menyanyi dan nonton dorama! :D